Gorakhpur- the city of Gorakhnath, is primarily famous for Gorakhnath Temple. But, various other attractions are becoming the charm for the visitors to the town. Thousands of visitors visit per year to the city as it is famous all over India for its Purvanchal culture and tradition. You can find numerous shrines and monasteries of various religions here. Further to visit here, Zeo Taxi offers the lowest fare taxi services in Gorakhpur at the best deals. With us, it would be simple to book a local taxi, outstation round trip, and one-way taxi along with an airport taxi for the drop.
Taxi Service in Gorakhpur at Lowest Fare Rates
For taxi rental in Gorakhpur, Zeo Taxi is now available 24x7 to make your trip full of zeal. While booking a local taxi service in Gorakhpur or outstation taxi booking, you will get full support. And this way, you can get a taxi on your budget quickly from Zeo Taxi at an affordable taxi rate. Working as a taxi company, we operate all over India along with outstation taxis in Gorakhpur.
With its fleet of taxi rentals with drivers in Gorakhpur, Zeo Taxi is making available taxis on rent for more than 1 million destinations from more than 100 cities of India.
Local Taxi Hire in Gorakhpur for a full day Ride
In Gorakhpur, there are various reasons to get joy with the taxi services in Gorakhpur. You can book a taxi any time you need with 24 hours services. However, there is full support from the taxi rental services for the local Gorakhpur taxi services, outstation taxi services in Gorakhpur, and cab services for transfer. There are many taxi services in Gorakhpur in the best traveling sources that make the benefits all day when you need them.
As a diverse and vibrant city, Gorakhpur has many places to see in a locality, and local taxi in Gorakhpur plays a significant role. Famous as the 'City of Gorakhnath,' it offers several historical, religious, and pleasure points. And, we ensure the quality service when hiring a local taxi. So let's see some of the best facilities for the city taxi.
Airport taxi booking in Gorakhpur for drop
Gorakhpur taxi service for railway drop
Hotel drop taxi in Gorakhpur
Types of Local Taxi Packages in Gorakhpur
Booking taxi service in Gorakhpur is now much more affordable and easy with Zeo Taxi. For the local, outstation round trip or oneway drop; hire a Gorakhpur taxi just by a few clicks of the Internet. To hire a taxi from Gorakhpur, explore your nearby places as well as Gorakhpur airport drop and local pickup drop for hotel & railways station.
Outstation Taxi in Gorakhpur at an Affordable Price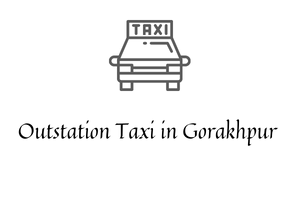 To hire a taxi for a one-way or outstation, you can visit us at our website and book a taxi according to your choice. We operate multi-city taxi rides along with transfer cabs in Gorakhpur at cheap fare deals. For outstation taxi in Gorakhpur, we will provide various options to ride for your favourite destinations in and around the city. Even though there are multiple options in the town, you can also find many popular and best places near Gorakhpur to enjoy your trip, whether travelling alone or with your family.
Methods to Book a Taxi Rental in Gorakhpur
Book a taxi for your trip with 24 hours service from us. You will find various methods to book a taxi for the airport or any other purpose. As a result, Some of them are following: -
Our Quality of Service for Gorakhpur Taxi Booking
Make hire a taxi service from Gorakhpur to explore your favourite places, and let's see what quality of services we offer.
Famous Places to Explore in Gorakhpur by a Taxi
If planning to explore this city, it will offer various sports and religious, historical, and pleasure points. Hire 24 hours taxi services from Zeo Taxi to see the natural beauty of the city, as well as book an affordable Gorakhpur taxi service for your outer ride.
List of Top Points to See in the city: -
Firstly, Geeta Press and Ramgarh Taal, including Gorakhnath Temple, are the major charms for visitors. Secondly, you can book a taxi for Budhiya Mai Temple, Gorakhpur Imambara, Geeta Vatika, Arogya Mandir, and Vishnu Mandir. After that, your taxi ride may engage with Chauri Chaura Shahid Smarak, Gorakhpur Railway Station, and Vinod Van. On the other hand, you can visit Gorakhpur Zoo also famous as Shaheed Ashfaq Ullah Khan Prani Udyan.
Some Useful Links for Zeo Taxi Gorakhpur